HOW TO INSTALL NATURAL STONE MOSAIC?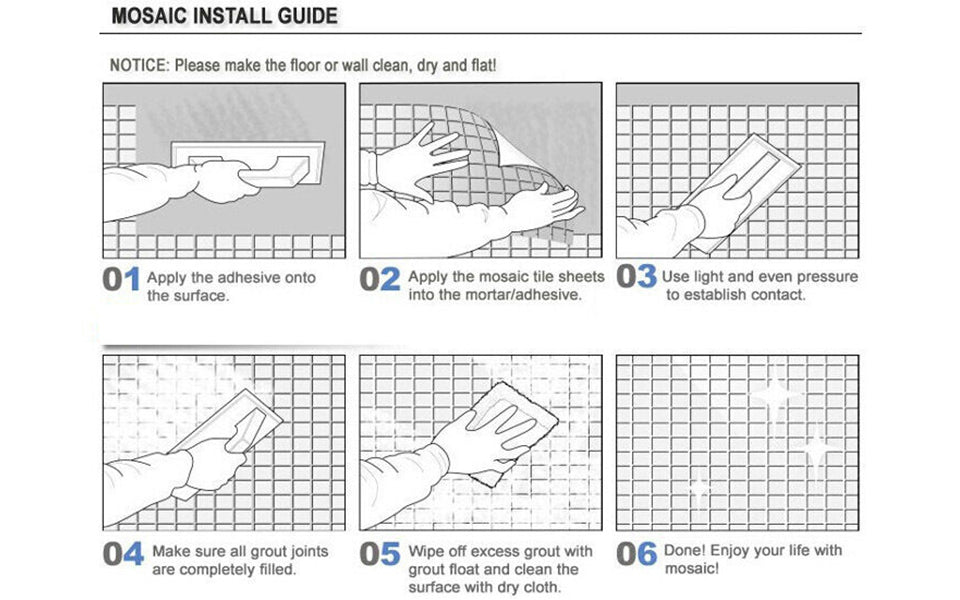 Before you start tiling, make sure that whatever surface the tiles are being installed to will be strong and structurally sound. Cement board, concrete or drywall is best, as these surfaces can handle the moisture of the tiling process. Plywood should be avoided, since the wood will warp with the added moisture and it will also be less waterproof, even after tiling.
Natural stones are products of nature; therefore, variations in color, pattern, texture, and veining will occur. Verify all products before installation for any damage or defects such as chipped edges, broken pieces. No adjustments will be made after installation.
We always recommend dry-fitting your pattern first to think about your cuts in advance and to make sure you like the pattern. This will also help you choose which pieces go where, which is especially helpful with tiles that have a lot of variation.
Apply as much adhesive as can be covered within 10-15 minutes. 
3/16" or 1/4" square notch trowel should be used when installing our marble material and ridges should be smoothed down with the flat side of the trowel prior to fixing the tiles in the mortar bed.
To prevent scratching, Non-Sanded grout is ideal for all natural stones. In the event that your grout joints are larger than 1/8", you should mix Sanded and Non-Sanded grouts for added density. Prior to grouting, test an area to make sure the stone surface will not scratch.
Grout joints should be packed full and free of voids and pits.
Clean excess grout as the work progresses before it has hardened completely.
Acids should never be used for cleaning grout haze.
Use a damp sponge for the final cleaning and to smooth out the grout joints.
We highly recommend applying grout release prior to grouting the tile to facilitate cleaning and for protection against staining from contrasting color grouts.
Use a wet-saw with a new, continuous rim diamond blade specifically designed for cutting marble. Do not use "turbo" or other notched blades designed for use with porcelain or ceramic as the teeth can cause a coarse cut, resulting in a heavily chipped edge.
The picture comes from the Internet. If there is any violation, please let us know and we will delete it.