Peel and Stick Backsplash Subway PVC Composite Tile Pack of 5 Sheets
Made of Real Stainless Steel - not vinyl, the Peel and Stick Backsplash Stainless Steel Staggered is a DIY (do-it-yourself) product. Easy to install, suitable for Backsplash & Wall.

Material: Metal, Stainless Steel, Aluminum
Size: W12" / D12" / H0.12"
Color: Silver
Application:Wall & Backsplash
Price for Box, 7 pieces/box, 1 sq.ft/piece, 7 sq.ft/box


SPECIFICATIONS
Brand
Diflart
Color
White

Chip Size 


Thickness
0.15"(4mm)
Size
11.8"×10.2"
Installation Method
Peel&Stick
Weight
1 LB
Finish
Polished

Use
Wall,Indoor only
Material
PVC, Stainless Steel, 

Aluminum

Mash
Peel and Stick

Style
Hexagon

Application
Backsplash,Interior Wall,Shower Wall,kitchen wall
Coverage
4.2 sq.ft.
PRODUCT FEATURES
Made of PVC Surface 8% + Back Adhesive 30%+ Metal 2% + Stone Plastic Core 60% Staggered is a DIY (do-it-yourself) product that combines stainless steel tiles and the latest peel stick technology suitable for kitchen backsplash. One of the greatest advantages of this self-adhesive tile, it is the ability to lay it on the wall without using any kind of cement or setting material, which is a huge time saver. This mosaic tile does not require grout and glue, which makes it even easier to install by yourself.
PRODUCT DETAILS
Peel and Stick Backsplash Tiles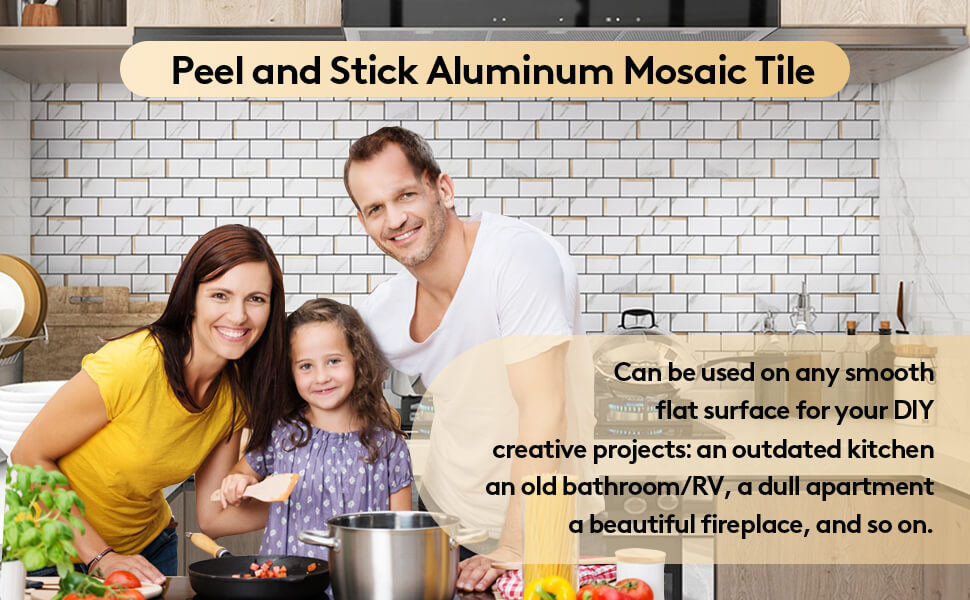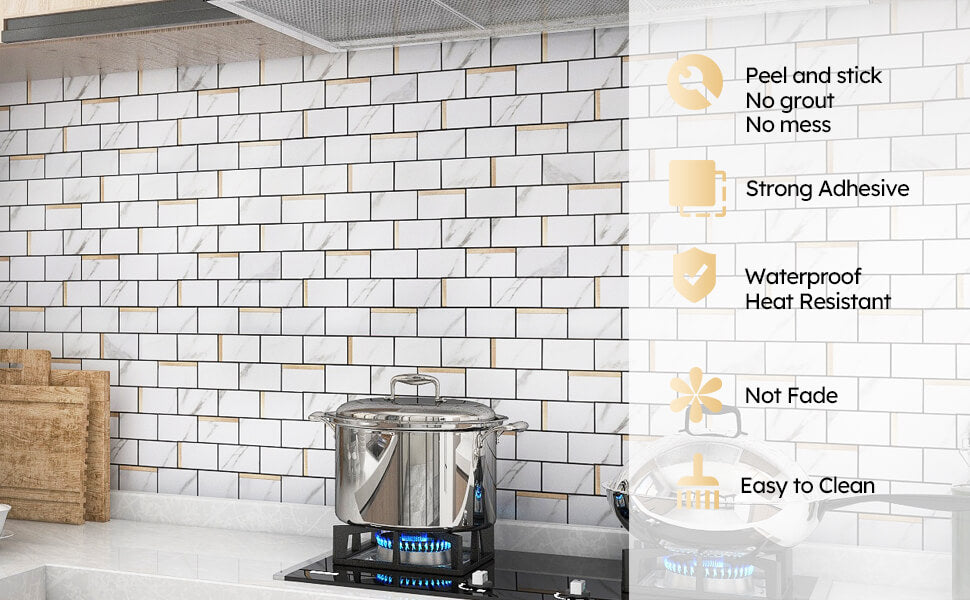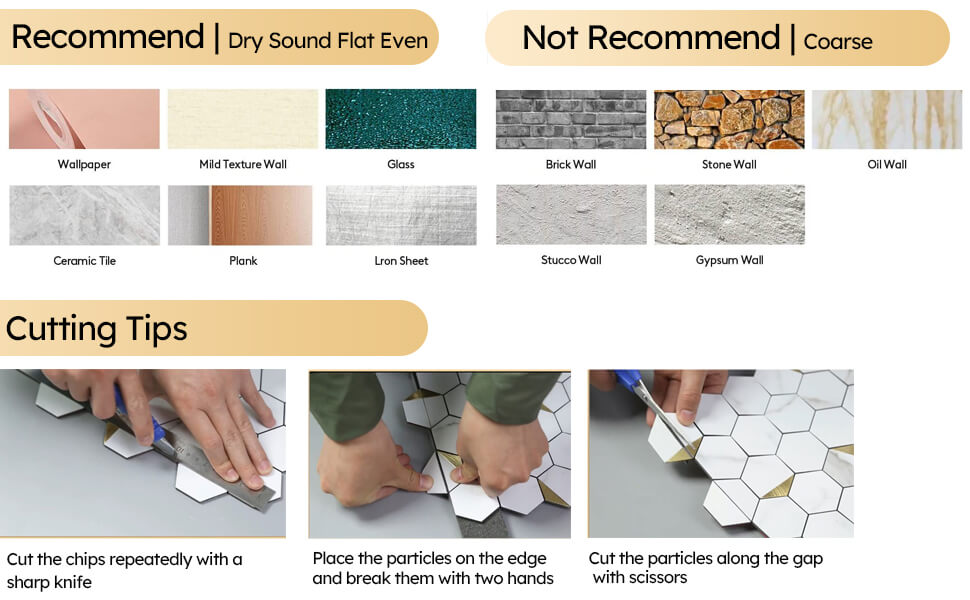 INSTALL INSTRUCTIONS
Clean the surface on which the tiles are to be pressed with sugar soap to remove all grease and other residue Make sure the surface is completely clean and dry before commencing the tiling.
Measure the whole area to be tiled and lay the tiles out on a table or floor to replicate the area. Then you can be sure you have enough tiles for the job plus a littie left over in case of mishaps.
Start by measuring the surface for the first tile and marking for exact placement. Use a level to manage the correct positioning.
For oblong shaped tiles cut off the protruding tongues of the starting tile.
Cut the tile to size withtin sips, x-acto knife or hand saws
Peel the backing film from the tile.
Place the tile in position without pressing heavily until you are happy with the positioning. Then press down firmly, smoothing as you go.
Lay the next tile next to the first tile to coincide with the grout line. For oblong shaped tiles always overlay the projecting tongues on the preceding tile
Use your measuring tape and utility knife to measure and cut tiles to fit corners and around tricky spots like pipes. You can use a sheet of cardboard as a template to mark the spaces and cut out the holes. Then mark the spaces on the tile and cut the tile accordingly.
Continue the installation till the job is completed
MATERIALS YOU NEED
Cleaning cloth
Sugar soap
Ruler or tap measure
Plumb bob or level scissors
Utility knife
Silicone sealant
HOW TO MAINTAIN
Clean with a damp cloth
Do not use harsh chemicals or abrasive products
A mild detergent like baby shampoo is a good choice.
HOW TO REMOVE
Warm the tile surface with your hair dryer
Start the peel in the corner of each tile
Peel the tile away gently
Remove remaining glue with an ammonia solution
NOT TO BE USED ON
Table or counter top Floor
Shower walls
Freshly painted surface
Do Not use On
(allow minimum 3 weeks tor paint to dry)
WARNING
Never install these tiles close to extreme heat or close to flames
AFTER-SALE SUPPORT
If the merchandise you ordered were damaged during transportation, please contact with us within 3 days and we will send you a free replacement ASAP.
If the return is the result of quality problem, we'll refund your return shipping costs and order costs. If the return is not a result of Diflart error, the return shipping costs will be deducted from your refund.