Peel and Stick Backsplash PVC Composite Wood Wall Decor Backsplash Tiles Pack of 5
The Wood panel PVC peel and stick backsplash is used for wall decoration, just peel and stick, save your time and money on labor. Easy for installation. Each backsplash tile sheet has brushed aluminum matted surface and self-adhesive back sticker, no grout.Strong stickiness, will not fall off.

Material: PVC (Vinyl)
Size: W12" / D12" / H0.16"
Color: Grey Wood
Application:Wall & Backsplash
Price for Box, 5 pieces/box, 1 sq.ft/piece, 5 sq.ft/box

Order in The Next to get it by
Real Time
6
Visitor Right Now
SPECIFICATIONS
Item Weight :
 5.06 pounds
Product Dimensions :
 12 x 12 x 0.16 inches
Style :
Wood Panel Decor Peel and Stick Tile
Thickness :
 4 Millimeters
Installation Method :
 Self-Adhesive
Coverage :
 1 sheet = 1 sq.ft. 1 box = 5 sq.ft.
PRODUCT FEATURES
Just peel and stick, directly stick the tile on wall, save your time and money on labor. Easy for installation.
Each backsplash tile sheet has brushed aluminum matted surface and self-adhesive back sticker, no grout.Strong stickiness, will not fall off. Tiles should not directly contact with flames or submerse in water. The tile's surface is resistant to heat and moisture, easy wipe to remove the stains.
Please note that
The tiles are suitable for installation on very smooth and clean surface, please note that rough surfaces such as orange peel wall, plywood wall, stucco wall, textured ceramic tiles or plywood wall are not suitable to install.
We suggest that the tiles should be laid out before installation to get a satisfactory end result. Because its adhesive force is very strong, it's hard to tear them off.
Soulscrafts PVC peel and stick tiles is available in real wood texture, a variety of choices with today's popular furniture, electrical collocation bringing out the best in each other.
PRODUCT DETAILS
Peel and Stick Backsplash PVC Composite Wood Wall Decor Backsplash Tiles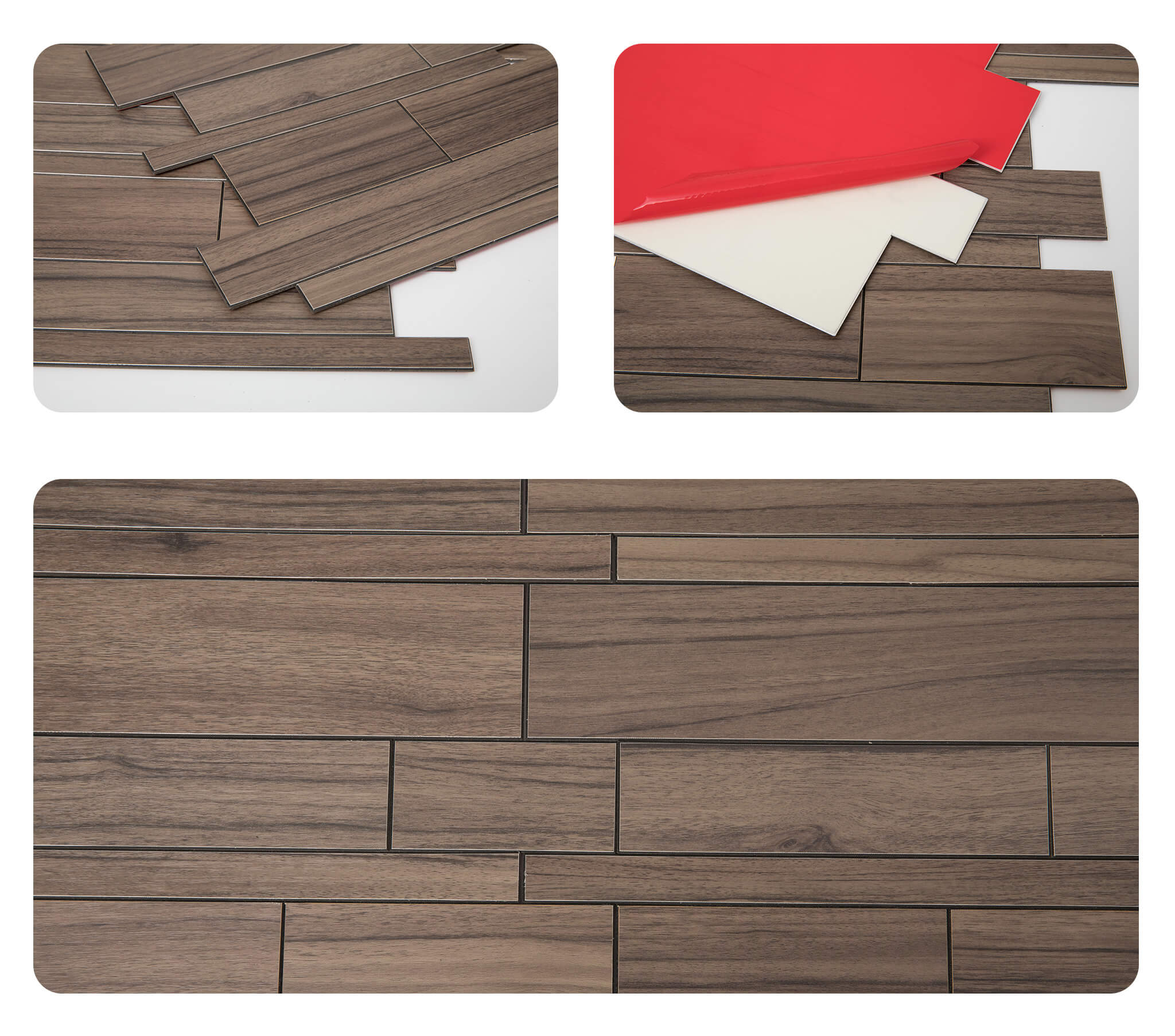 INSTALL INSTRUCTIONS
Clean the surface on which the tiles are to be pressed with sugar soap to remove all grease and other residue Make sure the surface is completely clean and dry before commencing the tiling.
Measure the whole area to be tiled and lay the tiles out on a table or floor to replicate the area. Then you can be sure you have enough tiles for the job plus a littie left over in case of mishaps.
Start by measuring the surface for the first tile and marking for exact placement. Use a level to manage the correct positioning.
For oblong shaped tiles cut off the protruding tongues of the starting tile.
Cut the tile to size with scissors or utility knife
Peel the backing film from the tile.
Place the tile in position without pressing heavily until you are happy with the positioning. Then press down firmly, smoothing as you go.
Lay the next tile next to the first tile to coincide with the grout line. For oblong shaped tiles always overlay the projecting tongues on the preceding tile
Use your measuring tape and utility knife to measure and cut tiles to fit corners and around tricky spots like pipes. You can use a sheet of cardboard as a template to mark the spaces and cut out the holes. Then mark the spaces on the tile and cut the tile accordingly.
Continue the installation till the job is completed
MATERIALS YOU NEED
Cleaning cloth
Sugar soap
Ruler or tap measure
Plumb bob or level scissors
Utility knife
Silicone sealant
HOW TO MAINTAIN
Clean with a damp cloth
Do not use harsh chemicals or abrasive products
A mild detergent like baby shampoo is a good choice.
HOW TO REMOVE
Warm the tile surface with your hair dryer
Start the peel in the corner of each tile
Peel the tile away gently
Remove remaining glue with an ammonia solution
NOT TO BE USED ON
Table or counter top Floor
Shower walls
Freshly painted surface
Do Not use On
(allow minimum 3 weeks tor paint to dry)
WARNING
Never install these tiles close to extreme heat or close to flames
AFTER-SALE SUPPORT
If the merchandise you ordered were damaged during transportation, please contact with us within 3 days and we will send you a free replacement ASAP.
If the return is the result of quality problem, we'll refund your return shipping costs and order costs. If the return is not a result of Diflart error, the return shipping costs will be deducted from your refund.